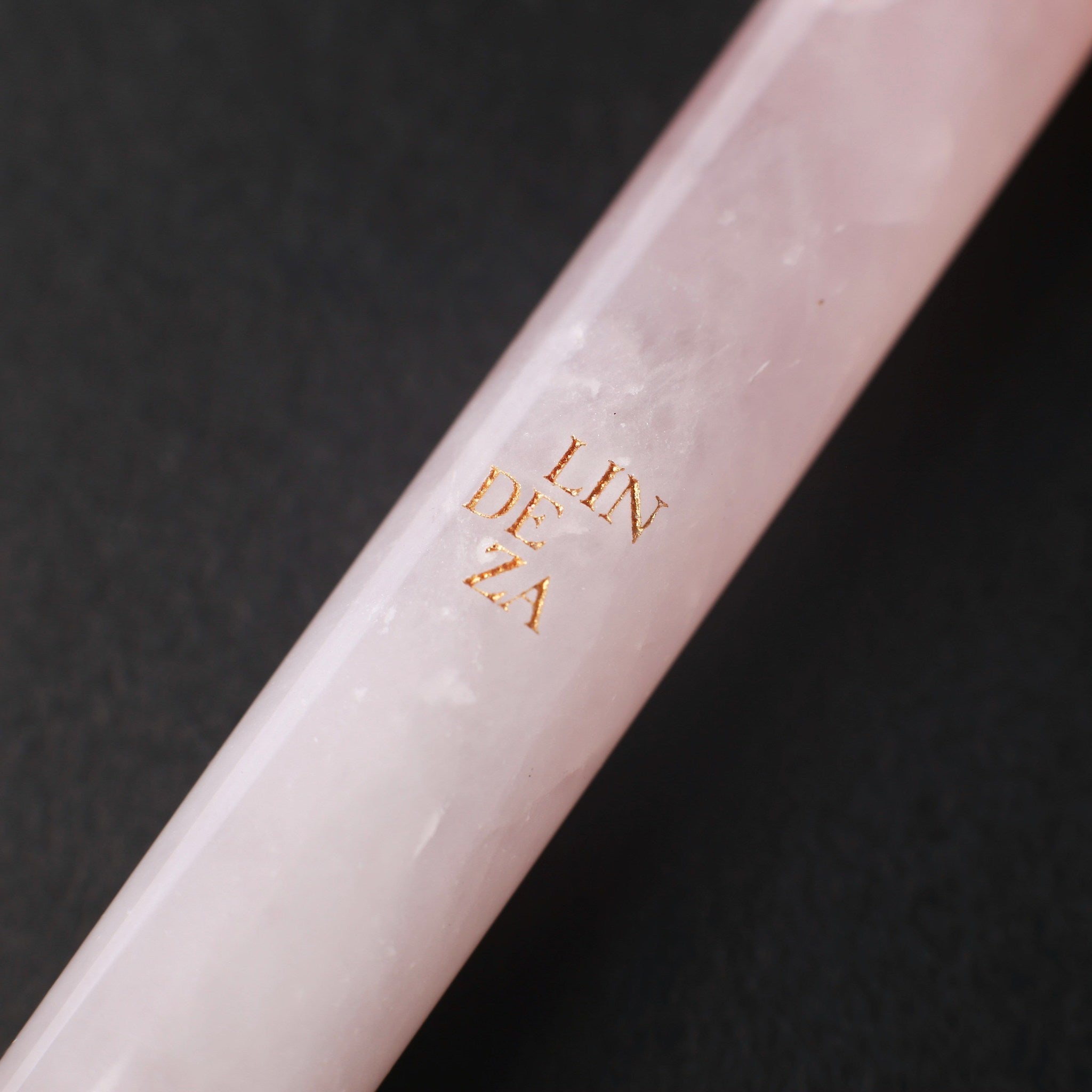 Description
Description :
HOW DOES IT WORK? WHAT ARE BENEFITS? 
The gentle pressure helps to stimulate blood circulation and leave the facial muscles more relaxed, which helps to decrease puffiness, reduce dark circles and make your skin look brighter and feel firmer. 
By encouraging lymphatic drainage, it boosts the skin's natural detoxification process. 
By drawing away toxins, this allows a lifting effect and facial contour. 
If you use it together with a facial mask, oil or serum, it will help to better and faster absorb product. 
Facial massage is known to be a stress reliever. The daily ritual can relieve tension, reduce anxiety, boost your mood and act a small act of self-care in the day
Apply a facial oil, serum, or moisturizer with lots of slip.
Start at the neck and roll upward. 
 Roll from the jawline to the ear on both sides using gentle pressure.
Roll from the forehead up toward the temples, only in the upward direction.
 Roll flat over your eyebrows horizontally, which may feel especially relieving if you have a headache.
HOW OFTEN TO USE? HOW LONG? 
Face rollers are safe to use every day. 5-10 minutes a day. 
Gemstones
We use only high quality 100% real and ethically sourced natural gemstones. Therefore, each piece is unique, one-of-a-kind and never repeats itself.
Jewelry care
Fashion jewelry
Keep your jewelry dry. Remove before exposure to moisture (for example, washing hands, doing laundry, swimming, showering, exercising). Wipe pieces with a soft, dry cloth after wearing to remove skin oils before storing. Avoid applying lotion or perfume while wearing jewelry. Put on jewelry last and remove it first. Store jewelry in a cool, dry place, minimizing contact with other metals. Consider airtight plastic bags for fashion jewelry storage.
Beaded jewelry
To ensure longevity please be gentle and avoid tugging and pulling of these pieces that can strain the elastic or cause the beads to loosen. Avoid exposing the beaded jewelry to chemicals such as perfumes, lotions, hairsprays, and cleaning products. These substances can discolor the beads and weaken the elastic. Store it in a dry place away from direct sunlight.
Sterling Silver Jewelry

We recommend regularly cleaning your sterling silver jewelry using a soft cloth. Store your sterling silver jewelry in a cool, dry place, away from direct sunlight, moisture, and humidity. Keep it away from chemicals, including perfumes, lotions, hairsprays, and cosmetics. Take off your jewelry before engaging in activities that may expose it to harsh conditions, such as swimming, exercising, or cleaning.
Return policy
We have a 7-day return policy. Return shipping costs are covered by the client. Returns are processed after receiving a returning item and inspecting quality to confirm that the piece is returned in its original condition with the original packaging.